DEFAULT SETTING: CHILD and PARENT TAG
By default for each class, tag printing is ENABLED and  bag tag is DISABLED. This means that when children are checked in, tags print for each child, and a pickup tag prints for the parent. For example, if a parent checked in four children, five tags would print: one tag for each child and one pick up tag for the parent.
Other available tag printing options:
Child & Parent tag PLUS Bag tag
No tags 
Tag printing options can be modified within each individual class. To do so, go to Classes Settings from your dashboard and select the class you wish to modify the tag printing options for.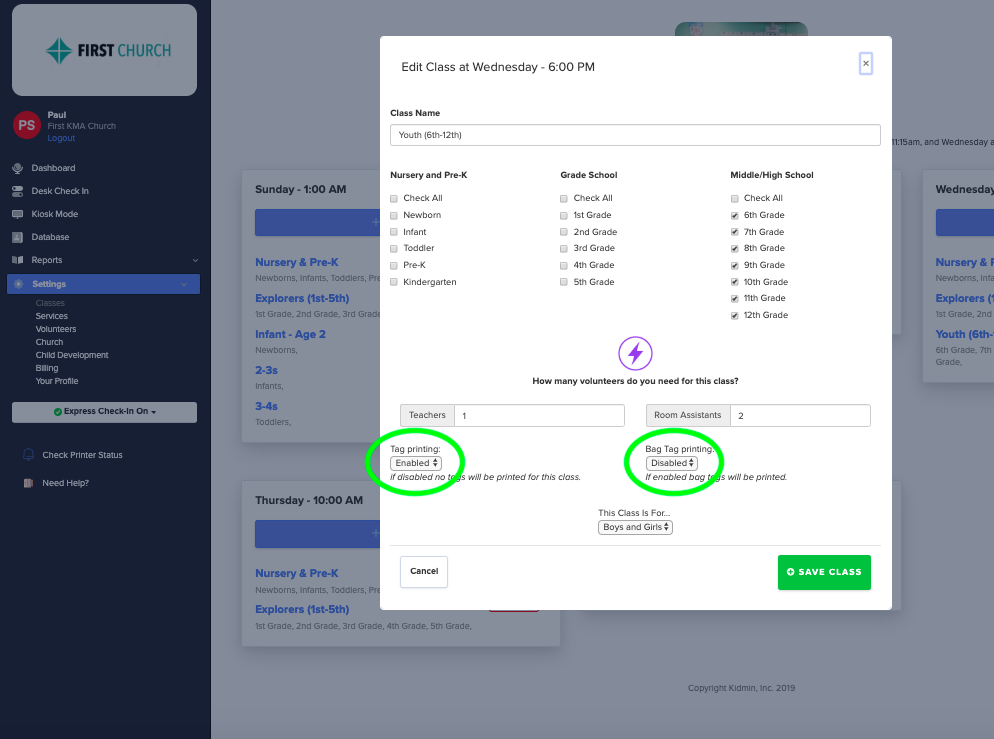 CHILD and PARENT TAG + BAG TAG (can be helpful for nursery age)
Sometimes for younger classes where there are diapers bags and/or backpacks it can be helpful to have an extra child tag to keep track of belongings.
Here's how to print a tag for the child and parent, plus an extra child tag:
Go to the class you want to turn off the parent tag printing under Classes Settings.
Make sure tag printing is ENABLED (default setting). This tells system to print child and parent tag.
ENABLE bag tag printing. This tells the system to print a bag tag as well.
Click "Save Class" to apply changes. Note: You'll need to do this for each class you want to have these settings.
NO TAGS (can be helpful for older classes)
Note: For an older class where you want NO tags to print, but you still want to track check-ins (ie. youth age), just go through the same process above and disable BOTH printing options and save class changes. Note: If your parent checks in a child for another class where tag printing is enabled, that child's tag and a parent pick up tag will still print.
If you choose to disable all tag printing for a particular class, make sure to pop in after a service is finished and use the mass checkout button to keep your attendance accurate.