Understanding the Grade Promotion Date & Manual Override
Understanding the Grade Promotion Date & Manual Override

By Paul H
updated 3 months ago
GRADE PROMOTION DATE
By default, our system calculates what grade a child falls into based on their birthday per your grade promotion date. Promotion dates are used by schools and are traditionally September 1. However, we discovered that some churches use a different date when calculating grades. You are able to change the date our system uses to calculate grades K-12. You are also able to change the age ranges for PreK & under.
CHILD DEVELOPMENT CHART
Kindergarten & Up: Days old as of most recent September 1. (You can change this date in church's Promotion Month & Day under Church Settings)
Kindergarten: 1825 -- 2190
1st Grade: 2190 -- 2555
2nd Grade: 2555 -- 2920
3rd Grade: 2920 -- 3285
4th Grade: 3285 -- 3650
5th Grade: 3650 -- 4015
6th Grade: 4015 -- 4380
7th Grade: 4380 -- 4745
8th Grade: 4745 -- 5110
9th Grade: 5110 -- 5475
10th Grade: 5475 -- 5840
11th Grade: 5840 -- 6205
12th Grade: 6205 -- 6570
For PreK & Under: Days old as of CURRENT DATE (You can change these age ranges in Child Development Settings.)
Newborns: 1 -- 28
Infants: 28 -- 365
Toddlers: 365 -- 1095
Pre-K: 1095 – 1825
MANUAL OVERRIDE (CHANGING GRADE/CLASS ASSIGNMENT)
If you have a child who you would like to be in a particular class, and they don't fall into the correct class by the default "their birthday" setting per your church's promotion date, you can do a manual override.
Here's how:
Go to your Database and select the child who's settings need to be changed.
Click "edit child."
From their profile, under how they're assigned to classes, change the dropdown option from "their birthday" to "a manual override." A list of the grades will show up, and you can select what grade you want them in.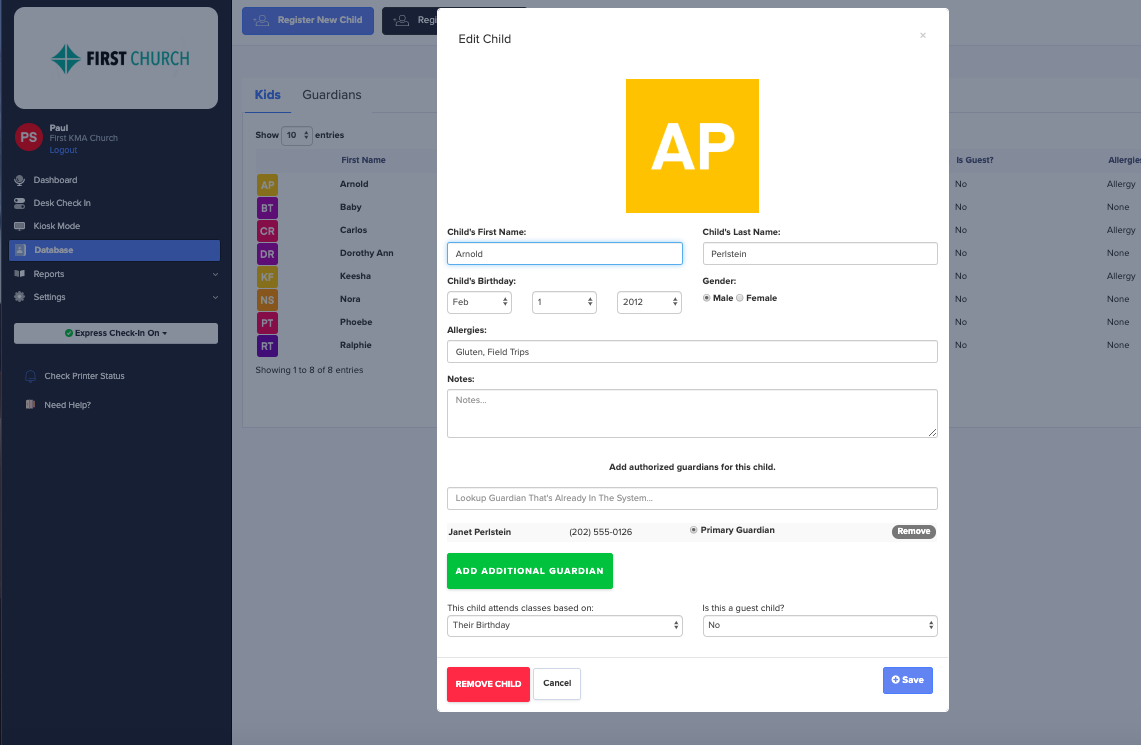 NOTE: If you select manual override, you will have to go in and again manually put them in the next grade or class when it's time for that child to move up. As long as manual override is selected, the system will not promote them automatically.
Did this answer your question?