If you're choosing to utilize the mobile app for your parents for express check in, you'll need to let your parents know how to set up their accounts.
Creating New Guardian Accounts
To get their account set up, parents download the app and "Create a New Guardian Account," following the on-screen instructions.

Note: For volunteers who are also parents, if they've already created their account from your invite or you've already added them, they're all set. Otherwise see "How to Add a Volunteer." Your volunteers can just use their login information to get into the mobile app and they'll have access to parent options.

For a full explanation of features available to parents versus volunteers, see our article, "Mobile App: Overview."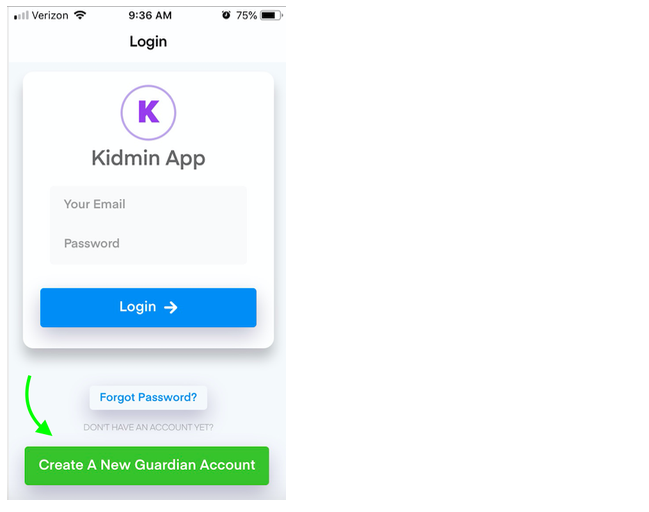 If you had previously registered a parent, when that parent logs in with the same phone number, Kidmin recognizes them as already in your database and asks them to confirm and will sync the information already in your database. Note: It's important that the information the parent enters when creating their account matches what you input for them. See our troubleshooting article, "Duplicate Accounts" for more details.
If one parent has registered with children, and the other parent/guardian still needs to be connected and have their children attached to their account: the first parent can go to their mobile app settings and send the guardian referral code to send to their spouse. See more information in our article, "Guardian Referral Code."
Explaining to Your Parents
How you choose to explain it to parents depends on what works best for your church. Here's just a few different ways some of the churches using Kidmin App have done it.
Hand out sheet with printed instructions. (Here's an example!)
Email/Message parents with mobile app link and instructions. (Links to mobile app download in our article, "Mobile App: Overview.")
Create your own video like one of our users did and share with your parents - check his video for parents out here (thanks, Jason A.!).