2019 UPDATE regarding Kidmin Hero App: Your volunteers and parents can all use the same Kidmin App now. Just have your Kidmin Hero user log in to Kidmin App with the same information. No need to re-invite or create a new volunteer.
----
We highly recommend having your volunteers and parents use the mobile app, available for free in iTunes and the Google Play Store.
For GUARDIANS/PARENTS, the mobile app allows them to:
Update their profile information, add children. (Enter guardian referral code if spouse has already created account and registered children. Found in app under "Settings.")
For child pickup, show volunteer electronic pickup tag (helpful if they lose the physical tag!)
Use express check in (if enabled by your church).
If functioning as a volunteer, use the volunteer features (tag scanner, live roster, etc.)
For access, your parents and guardians will need to set up their account, if they're not volunteers already.
For VOLUNTEERS & ADMIN, the mobile app allows them to:
View a live roster of each class. Quick view of number of children checked in.
Select a child and 1) view important information such as allergies and notes, 2) use one-tap parent paging, 3) check child out
Scan a tag or code to quickly check a child out.
Scan a tag to quickly pull up child information, one-tap parent paging, or check a child out.
Have access to all parent functions list above (helpful if volunteer is also a parent).
For access, you'll need to invite or create your volunteers.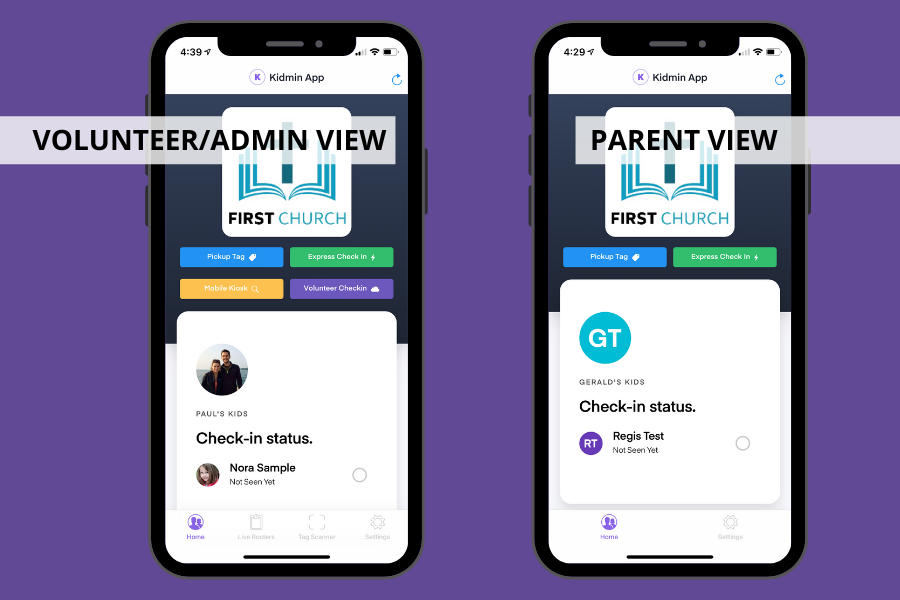 RELATED ARTICLES
For express checkin set up, see "Express Check in"
To change a user's role, see "Changing Roles."
To change tag printing settings per class, see "Tag Printing Options."
To add volunteers, see "How to Add a Volunteer."